Claim Your Recognition as a Personal Agility Recognized Practitioner!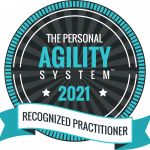 A Personal Agility Recognized Practitioner™ (PARP) knows what really matters in their life and strives to live their life accordingly. A PARP can align what they do to What Really Matters and create alignment that extends beyond themselves.
A PARP can explain the six questions of The Personal Agility System™ (PAS), can demonstrate how they are using Personal Agility to identify what really matters, and show how they are using The Personal Agility System™ to organize their lives. Furthermore, a PARP can apply the underlying coaching skills to help people solve challenges and create alignment around a common sense of purpose.
The Application to become a PARP has 3 pages:
Grant permission to the PAI to store your data
About you and your experience with PAS
Miscellaneous information
To apply, you must be logged in and your profile must be complete, including a picture. You need to know who taught your course, when it started, whether your name is spelled correctly on the registration. We will ask you to answer 5 questions about your use of PAS — Kindly respond with a short paragraph of about 3 or 4 sentences each.
You will probably need about 15 minutes to complete the application. While preparing your application, you can save it at any time to return to finish it later.
Ready to Apply?
Are you logged in? If not, log in to continue.