"With PAS, my vision of life changed: from a frustrated jobless, I became a highly motivated person thirsting for life, eager to uncover new opportunities and willing to change." – José Albuquerque
Whether it's about starting a job, moving to a different country or a change in our relationships, change can be hard to accept, and many of us spend a great deal of effort trying to avoid it. Coping with change can be challenging and overwhelming, and although we are used to exit our comfort zone, a sudden job change is jarring. Jose was able to meet both challenges and find a new job that advances his career.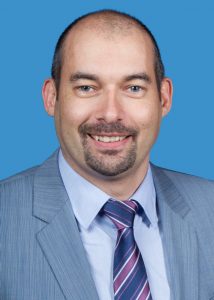 Jose Albuquerque is a Senior Key Account Manager who has worked in a large high-tech organization for over 20 years, and living in France, near the Swiss-French boarder. After a successful career, José found himself out of the labor force during the pandemic. During his time off, he discovered Personal Agility System (PAS) and working with his PAS Coach, he could transform his challenging situation in new opportunities, spend more quality time with his family, and transition to a new job opportunity.
Situation
"I have been working for 21 years in a high-tech company and I've grown within it. I started my career as Applications Engineer in France, then I moved to Portugal and finally, I served Swiss customers. I've learned a lot and I was enjoying every day this job, assisting outstanding customers and achieving objectives.
This was great… until the company decided to implement a new strategy during the pandemic without me. This was a shock: I have always been active and suddenly, I felt stuck. It was like being on the edge of the mountain, with no more new challenges to take on."
"I was looking for a new adventure, a personal one. During my introspection, I figured out that I needed a new life balance and at the same time, I was looking for a way to align what I do with what matters to me and my family."
Desired Outcome
"My objective was to achieve and maintain a new life balance, with an exciting new job, focus on what really matters to me, and satisfaction that my time is spent on what is important. This could also lead to serious change such as moving to Switzerland or relocating closer to my new job. At the same time, I was searching for a way to better organize my personal life and business life. In business, I am an expert at getting things done efficiently. However, I was missing the bridge between the personal and professional life."
Challenge
"Being a job seeker is always challenging. My special situation as a commuter living in France, looking for a position in Switzerland, made things even more complex. I had to prove that my location would not negatively impact my effectiveness at work. I had to define clearly my added value to an organization and demonstrate my strengths that help me stand out against the competition on the job market. When you are used to working hard, you do not see your achievements immediately – therefore, looking inside out to communicate confidently how I can create value in my target role, was crucial to me."
Path to Success
"With PAS, I was able to identify and spend time on my true priorities, and I was able to say "no" to the less important ones. Suddenly, I had more time for self-education, interview preparations, and networking. At the same time, I've prioritized self-care. I do sports daily, and I've engaged in learning German, taking classes twice a week. My habits changed, and now I spend more time reading and share precious time with my family."
"One of my supportive elements in dealing with the job search challenges was my Coach, Adelina Stefan. She understood rapidly that my agile methodology used at work could also benefit my personal life. In one of our discussions, she introduced me the concept of Personal Agility System. Once I decided to try it out, I found out an amazing way to set up objectives and measure progress weekly in all aspects of my life. To me, having a single page view containing every component of my life, tied to what really matters to me, was amazing: in one view, you get the expected results at work and personally, you get both the objectives you want to attain, and the actions related to those objectives."
"An important tool of Personal Agility was the weekly Celebrate and Choose, when I reviewed all my achievements of the previous week, picked the most important one and shared my success with friends, colleagues, and family. This was crucial to keep my motivation high and enforce my self-esteem!"
"With PAS, my vision of life changed. From a frustrated jobless, I became a highly motivated person, thirsting for life, eager to uncover new opportunities, and willing to change."
Other Success Factors
I had the chance to receive 2 books from my very good friends, that were a revelation. The first one, "Who moved my cheese" by Spencer Johnson is basic, simple, yet efficient. It explains an amazing way to deal with change in your work and in your life. This captivated also the attention of my 11 years-old son also, who read it in 1 hour. I highly recommend it to anyone! The second book was "The big five for Life" by John P. Strelecky. What stroke me was the following concept: One's lifespan is on average 28200 days, which means approximately 4000 weeks. If you measure that in days, you may not see the value of life itself, but counting it in weeks, it is enlightening. At my age, this means 2000 remaining weeks! When you start measuring your progress in life by the actions you have achieved weekly, you get a better grasp on how fast (or how slow) you are attaining your core objectives."
Taking It To The Next Level
"During my journey, I've applied to many positions, and I had numerous interviews. PAS helped me stay focused and keep my motivation high when faced with rejection. Currently, I am preparing to enter a new job: a role directly connected to my skillset and my aspiration, which takes my career to the next level."
"I have also taught PAS to my 11 years old son. He was overwhelmed by his school homework and complaining about the lack of time to play. With PAS, he stopped procrastinating and understood that the more efficient he was with his homework, the more time he would have to play, and have fun with his friends and family. On top of that, the weekly Celebrate & Choose Event improved his self-confidence and made him feel better about himself."