A match made in heaven, so I was to discover when I fused together the Metrix & Chill framework I created to coach teams with the Personal Agility System!
As a Personal Agility Recognized Ambassador (PARA) based in the UK, accredited by the Personal Agility Institute, I had already been enjoying over the last 7 months consciously applying the Personal Agility System to the way I live my life and the choices I make about how to spend my time.
I used the Personal Agility System Priorities Map and Breadcrumb Trail to achieve this. The link for this fantastic tool is available at https://trello.com/b/97G3ANs3/my-pas-priorities-map-and-breadcrumb-trail
The impact so far I have achieved directly from applying the Personal Agility System to my life during that time includes:
Succeeding in spending more time on my 'What Really Matters' I identified through using my Priorities Map – which is 'To Relax More'!
Pivoting my music tuition and consultancy business during the COVID-19 pandemic to not only sustain my income but increase it through the various dimensions of my portfolio career.
Feeling fulfilled and joyful every day through spending time on the things that really matter to me.
Even more brilliant time spent with my 3 children through me feeling more relaxed and fulfilled during our time together, which has brought us even closer as a family.
Rapid career progression in my 'day job' as an Agile Coach to the point of speaking at international events on initiatives I've created through performing optimally in various aspects of my life.
A great example of that last impact of me using the Personal Agility System by speaking at events includes being invited by a colleague PARA Dr. Gail Ferreira to present at The Silicon Valley Agile Project Meet-Up on 13th April 2021.
It was a terrific opportunity to highlight the synergies between agile ways of working; the Metrix & Chill framework I designed to help teams and individuals articulate the value they drive and identify their What Really Matters and the opportunities to explore measures for gauging impact!
Through real-time interactive activities with participants I encouraged them to consider the metrics they use to gauge their own personal agility, progress towards what really matters to them and to consider synergies between the way they live their lives, insights the Personal Agility System offers them and methods they use to quantify their impact/progress.
Watch the full session here: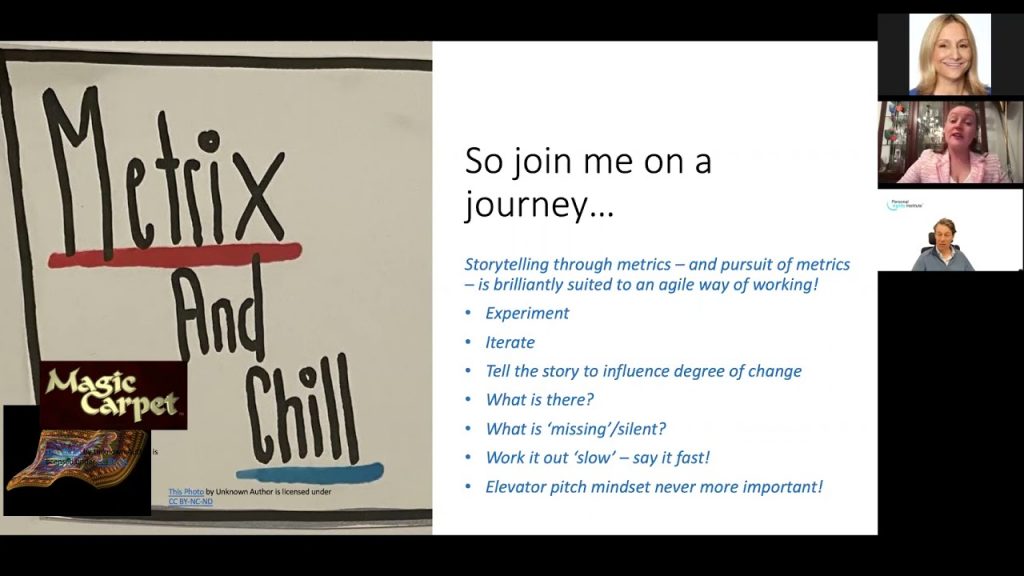 To discuss any aspect of synergies between the Personal Agility System and the Metrix & Chill framework or to discuss accessing Personal Agility System one-to-one coaching or group training with me please feel free to reach out to me at Susannah.chambers35@gmail.com for a no-obligation discussion.
A powerful question I'd like to share with you as a takeaway from this blog is as follows…
How do you know whether you're spending your time doing what really matters to you?
Best wishes, Susannah