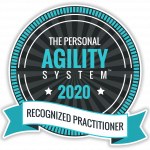 Certification, or what does it mean to be a Recognized Practitioner of The Personal Agility System?
A Recognized Practitioner of Personal Agility™ knows what really matters in their lives and strives to live life accordingly. A recognized practitioner can explain the six questions of The Personal Agility System, can demonstrate how they are using Personal Agility to identify what really matters, and can show how they are using their Priorities Map to to organize their lives.
Recognition is granted after a one-on-one coaching call. Recognition represents a confirmation that on the date of the recognition, the practitioner understands The Personal Agility System and has been applying it to their lives for at least one month. There are three levels of recognition:
How to become a PARP Recognized Practitioner
Simple:
How to become a PARE Recognized Enthusiast
Simple:
How to become a PARA Recognized Ambassador
Simple:
Apply to become a Recognized Practitioner or Recognized Enthusiast of Personal Agility!
List of Recognized Ambassadors of The Personal Agility System
The following persons have been recognized as ambassadors of The Personal Agility System:
December 2019
List of Recognized Practitioners of The Personal Agility System
The following persons have been recognized as practitioners of The Personal Agility System:
September 2020
August 2020
July 2020
June 2020
April 2020
December 2019
November 2019
June 2019
May 2019
December 2018
November 2018
October 2018
December 2017
November 2017
October 2017
September 2017
2016
List of Recognized Enthusiasts of The Personal Agility System
The following persons have been recognized as Enthusiasts of The Personal Agility System:
June 2020
December 2019
"PAS Recognized Practitioner", "Recognized Practitioners of The Personal Agility System", and the PAS Badge are Trademarks of Peter Stevens